Long Beach Airport Association
Advancing aviation, economic growth and business diversity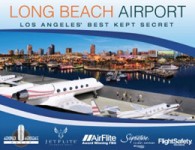 Founded in 1947, the Long Beach Airport Association (LBAA) represents more than 18,000 employees and 200 diverse businesses at Long Beach Airport. These include several premier fixed-base operators and specialty aviation service companies; Gulfstream Aerospace aircraft service centers; the Boeing Company; and nearly 100 acres of mid-rise business park, hotel and educational uses.
Located in close proximity to Los Angeles and Orange Counties, Long Beach Airport is a busy and diverse facility with over 370,000 annual aircraft operations. It currently serves about three million commercial airline passengers annually, offering direct flights throughout the U.S. with domestic and international connections.
Long Beach Airport Association
From community supporters and private aircraft owners to local businesses and major airport operators, our members work collectively to:
Advocate the interests of airport operators and users
Achieve balanced economic growth and diversity
Preserve aviation jobs and businesses
Form community and educational partnerships
Membership
LBAA membership allows you to keep updated on the latest news, activities and policies affecting your business and operations.
FOR IMMEDIATE RELEASE
Long Beach Airport Association Heightens Mission to Advance Aviation, Economic Growth and Business Diversity
Founded in 1947, the non-profit membership organization revitalizes board to promote balanced economic development and expanded marketing efforts.
(Long Beach, Calif. – May 15, 2014) The Long Beach Airport Association (LBAA)—a collaboration of Long Beach Airport businesses, private aircraft owners and community supporters—has launched a powerful effort to promote business diversity and preserve aviation as a vital contributor to the Southern California economy.